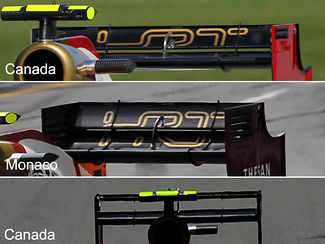 The Spanish HRT team came up with a special rear wing aimed to achieve better top speeds at the end of the straights of Circuit Gilles Villeneuve. While that in itself is not special, the actual design is, because it's been a while since we saw such a tiny rear wing on an F1 car. The wing is especially impressive with DRS open, where it generated very little downforce, but also a little drag as possible.

The wing did pay off, as HRT was among the fastest cars on the straight, but unfortunately that came at a cost in the corners. Brake problems for both cars after only 25 laps of racing meant it didn't matter much anyway, as both cars were forced to retire before the halfway mark.
---
Comments
By Francesc on 11-06-2012 at 21:07
How come it did not pay off? They were faster than Virgin and De La Rosa was having his best race of the year until he had to retire.
---
By Tomba on 17-06-2012 at 18:03
Francesc, there is a saying "to finish first, you first have to finish". Perhaps the team have focussed a little bit too much on top speed and forgot about completing 70 laps reliably.
That why, from my point of view, no matter how well the wing worked, it didn't pay off.
---
By J3rrYcid on 19-12-2012 at 08:37
That is an interesting rear wing design for the Spanish HRT team. Too bad it didn't work out too well for the team during the race. Sometimes, innovative changes to car parts need to be corrected a few times to achieve the desired results. I still think the team is heading towards the right direction by coming up with these creative designs.
---
Add comment
Please register or log in with your account to comment on this blog entry