McLaren MP4-22 Mercedes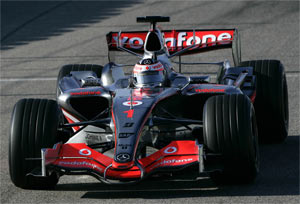 active: 2007
Team: McLaren International Ltd

Designers: Neil Oatley (Design & Development), Mike Coughlan (CD), Pat Fry (CE)
Drivers: Fernando Alonso (1), Lewis Hamilton (2)
Its development period commenced before its predecessor the MP4-21 had even turned a wheel. Initial sketches of aerodynamic concepts and discussions over the design of the clutch and gearbox took place back in December 2005. During the design process, each of the car's 11,000 components were reviewed in meticulous detail in the quest for improved performance, reliability and efficiency.
The MP4-22 represents the latest research and development concepts. Initial ideas were developed with Computer Aided Design (CAD) in mid-March 2006, with the first Computational Fluid Dynamics (CFD) simulations running later that month. The wind tunnel programme commenced in May.
The design also incorporates three demanding new pieces of crash protection legislation. A totally new rear crash structure is noticeably wider and blunter than its predecessor. An extra 6mm-thick laminated panel is now also required to be bonded to the side of the driver cell to guard against penetration from another car or object. Frontal protection for the driver has been improved too, with the velocity of impact in the crash test raised from 14 to 15 metres per second, with a softer deceleration both front and rear.
Other regulation changes that have impacted on the design process include the use of a homologated engine for 2007, and the switch to a single tyre supplier.
Apart from these changes though, the car has hardly changed visually while others teams developed the aerodynamics massively in the winter of 2006-2007. Although their new livery wont speed them up, their new drivers, including double Renault F1 champion Fernando Alonso might.
More information of this car when it was launched:
Specifications
Chassis: McLaren moulded carbon fibre/aluminium honeycomb composite incorporating front and side impact structures. Contains integral safety fuel cell
Front Suspension: Inboard torsion bar/damper system operated by pushrod and bell crank with a double wishbone arrangement
Rear Suspension: Inboard torsion bar/damper system operated by pushrod and bell crank with a double wishbone arrangement
Suspension Dampers: KONI
Electronics: McLaren Electronic Systems control units incorporating electronics for chassis, engine and data acquisition. McLaren Electronic Systems also supplies the electronic dash board, alternator voltage control, sensors, data analysis and telemetry systems
Bodywork Construction: One-piece sidepod and engine cover. Separate floor section, structural nose with integral front wing.
Tyres: Bridgestone Potenza
Radios: Kenwood
Race Wheels: Enkei
Batteries: GS Yuasa Corporation
Steering: McLaren power-assisted
Instruments: McLaren Electronic Systems
Adhesives: Henkel Technologies
Brake Calipers: Akebono
Engine
Type: Mercedes-Benz FO 108T
No. of cylinders: 8
Fuel: Mobil 1 Unleaded
Lubricants: Mobil 1 products
Engine: 95kg
Transmission
Gearbox Speeds: Seven forward and one reverse
Semi-auto: Yes
Driveshafts: McLaren
Clutch: Hand-operated
---
---