Hello J.A.W.
Quote from "your" link:
"What was the pony power with the added mods? Surprise! The hopped-up YZ250 peaked at 49 horsepower at 8500 rpm, while the his full-race YZ250F peaked at 49 horsepower at 13,500 rpm. The kicker was that the YZ250 two-stroke had 9 more pound-foot of torque than the thumper. Those kinds of torque numbers are game-changers."
End of Quote
Quote from the Internet:
2-stroke YZ250:
In 1999, the bore was further reduced to 66.4 mm and the stroke lengthened to 72 mm producing a displacement of 249 cc. The longer stroke engine resulted in a lower redline, slightly less top end power and greatly improved torque at lower RPM.The engine produces a peak 48.8 horsepower (36.4 kW) at 8,800 rpm and 30.6 foot-pounds force (41.5 N⋅m) of torque at 7,500 rpm, with a 9,000 rpm redline [2].

4-stroke YZ250F:
250cc liquid-cooled DOHC 4-stroke; 4 valves. Bore x Stroke. 77.0mm × 53.6mm.
End of Quote.
If the above quotes are correct, then:
At its peak power (49bhp at 13,500rpm) the over-square 4-stroke makes 102mN/lt specific torque at a mean piston speed of 24m/sec.
At its peak power (also 49bhp, but at only 8,500rpm) the 2-stroke makes 162mN/lt specific torque at a mean piston speed of 20.4m/sec.
At peak power the 2-stroke has 60% more torque than the 4-stroke, but the 4-stroke revs at 60% higher revs.
The 2-stroke has 0.92 bore-to-stroke ratio, while the 4-stroke has 1.44 bore-to-stroke ratio (i.e. ~60% larger bore-to-stroke ratio).
The necessary long piston stroke of the 2-stroke (to optimize its conventional ports and breathing) puts limitations to its peak power (at least as compared to a short-stroke 4-stroke of similar displacement, as above).
An answer may be the PatATE 2-stroke design: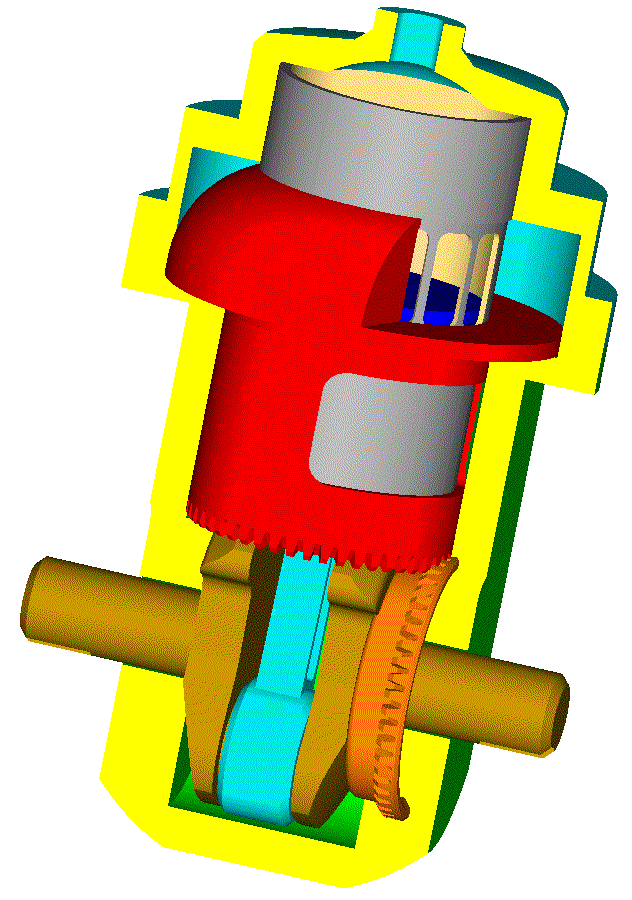 (more at at
https://www.pattakon.com/pattakonPatATE.htm
)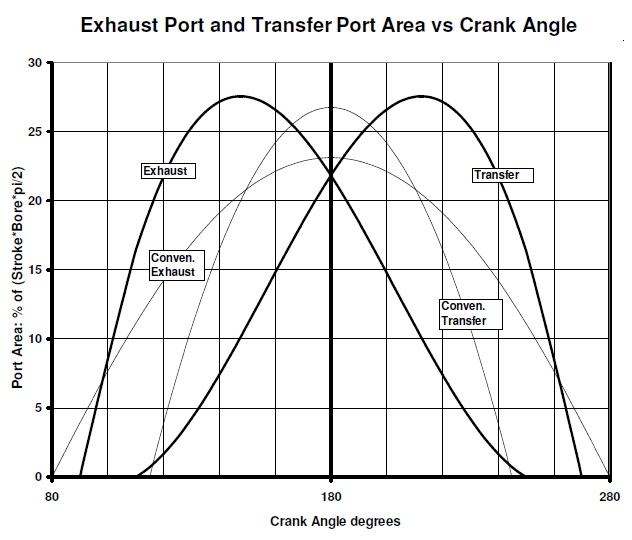 wherein an XXL-size hybrid port serves alternatively both, the exhaust and the transfer.
Its area is so big that allows the substantial increase of the bore-to-stroke ratio in order the 2-stroke to be the unquestionable winner not only in specific torque, but in specific power as well.
Thanks
Manolis Pattakos