Formula 1 currently using suspension that can not resist roll outward rotation. Therefore, there is so much negative camber on the front wheels. These features are major factors in sub-optimal use of tires. Tires used only on 100% inside. The outer part is almost new. Roll out the rotation is a negative feature because of which there is low stability of the behavior of the car. We have to make an earlier inhibition, which particularly affects overall lap times.
Those who have high stability in cornering - a faster lap time.(RB7, McLaren, Ferrari)
Those who have low stability in cornering - a slow lap time.(HRT, LOTUS, VIRGIN).
I do not think that there is a need to further write the theory of this issue.
I want to get a lot of opinions on my proposed new technology.
I propose a new suspension with active roll and tilt wheel to turn.
The main object of the new suspension is a - forced power center of mass.
Operate in a normal center of mass of suspension did not work. The resulting Roll in turn is a consequence of lack of control over the force of the mass center. Therefore, all solutions to improve the suspension to the subordination of the situation. I suggest that the technology before turning to force tilts the bolid in the direction of rotation. Outer side is lifted. The inner side of a little down. All this happens while turning steering wheel. Power of the center of mass first moves in the direction of rotation - stops with the slowdown - and then belatedly seeks to the outside. But at the time of delay is made a turn.
This property with a new suspension technology allows to wheels have negative (-0.5 degrees). Currently, negative camber is(-3.5....- 5 degrees). This allows for better contact patch with the ground the entire surface of tires on the straight sections of the circle. In turns the wheel tilt and have contact with the ground inside part of the tire.
This feature allows you to have a high focus wheel on the road. The consequence is no sliding and the presence of high stability.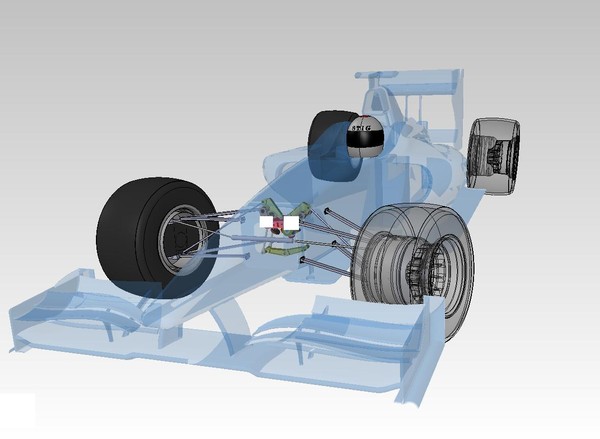 This is a summary of the new technology.
Anyone who has an opinion or suggestion on this issue - please welcome to the discussion.