Hello all.
Thank you Grunguru.
Quote from
https://www.kiwibiker.co.nz/forums/show ... r/page1663
/
Frits Overmars:
"Seeing that the in-cylinder pressure of the RSA (i.e. Aprilia 125) is about 12 bar at exhaust opening."
Quote from
https://www.kiwibiker.co.nz/forums/show ... r/page1665
:
Frits Overmars:
"That would be a perfect example of history repeating itself. Suzuki used this idea in 1962; they made the third transfer port of their 50 cc works racer as high as the exhaust port, with the intention of pressurizing the crankcase. But in 1963 this third transfer port was no longer any higher than the others..."
Jamathi:
"All 'normal' 2-stroke engines are rev-limited by the blowdown.
When the blowdown becomes insufficient, at high rpm, exhaust gases enter the crankcase.
They usually cause backfiring in the carburettor, sometimes destroying even the inlet valve or reeds.
At Aprilia we could see this very clearly: the transfer passages and crankcase inside became black."
A faster blowdown is the key for increasing the rev limit of a 2-stroke in order to provide proportionally higher power output.
The PatATE 2-stroke-design not only enables a substantially faster blowdown, but, at the same time, it can close the exhaust substantially earlier then the transfer.
Hello J.A.W.
A flat torque curve may be boring, however it is way safer for the driver / passengers on the road.
A faster overtake may prove a matter of "life-and-death", literally speaking.
The original Honda V-TEC B16A2 1600cc engine has at 5,000rpm a deep hole in its torque curve (there is where the engine shifts between the low rpm and the high rpm cam-lobes / rocker arms). It is not surprising that after the hole, the driver feels as having more power than what he really has.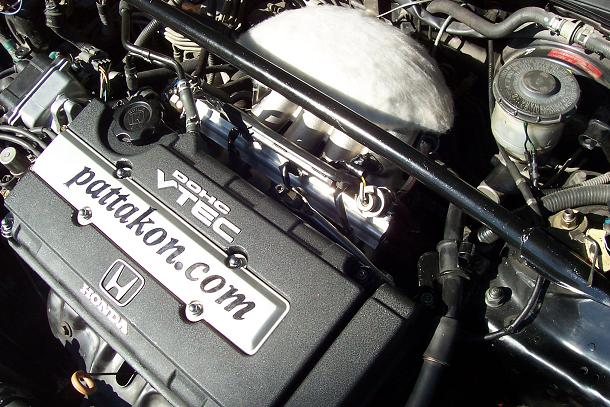 The modified pattakon roller VVA Honda Civic has a higher flat (and boring) torque curve.
The original Honda Civic can operate either with the green curves or with the red curves: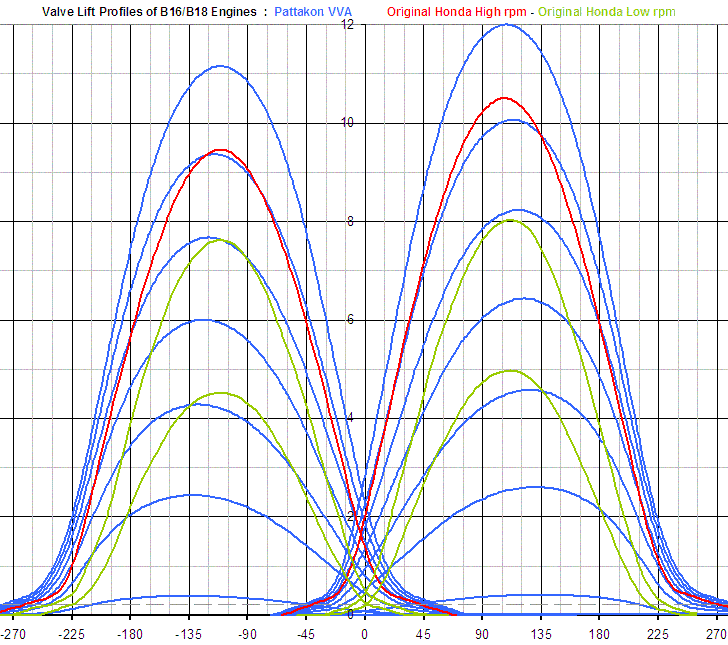 The modified to pattakon roller VVA has infinite available pairs of curves (valve lift profiles):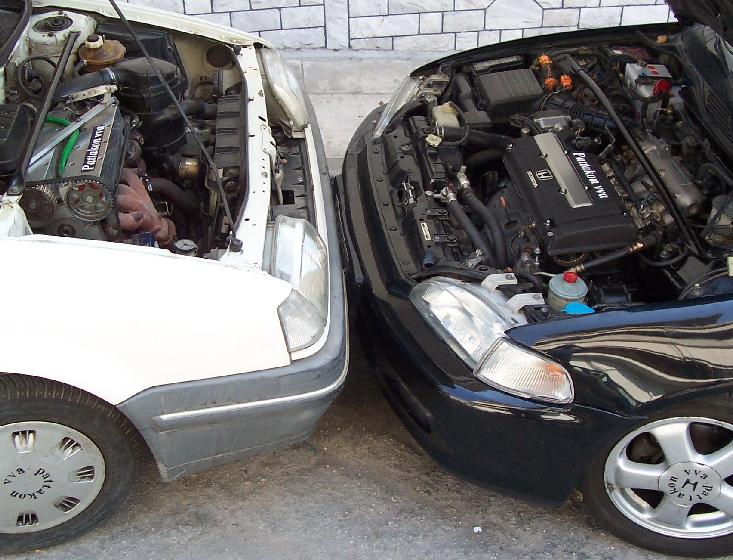 https://www.youtube.com/watch?v=-zzW8YkReLU
With infinite valve lift profiles you can fill all holes in the torque curve.
From another viewpoint,:
having an engine with a flat torque curve, it is quite easy to replicate an engine with holes in its torque curve,
while the opposite is not possible (unless the maximum torque required is that at the bottom of the holes).
Thanks
Manolis Pattakos