Hello all.
In the following animation they are shown more details of the PatBam PatAT (animations in previous posts):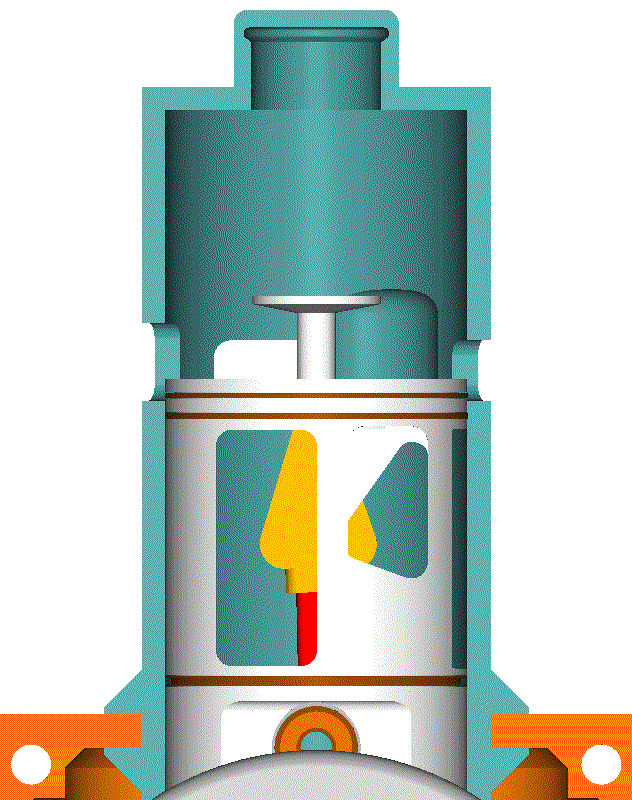 Among its characteristics:
"four-stroke-like" lubrication,
turbocharged (not shown; the turbocharger - assistant at cranking - serves as the scavenging pump, too),
asymmetric transfer ending after the closing of the exhaust port,
main scavenging with clean air,
early indirect fuel injection in the space underside the piston crown (the formed air-fuel mixture is the last to enter into the cylinder, eliminating the loss of unburned fuel towards the exhaust),
full balanced,
even firing,
no need for high voltage electric system,
better when running on cheap low-octane gasoline.
The strange piston structure divides both, the combustion and the scavenging.
Near the TDC the HCCI combustion is divided in two stages: after the auto-ignition and the combustion in the auxiliary chamber, the burnt gas passes into the main chamber triggering the ignition of the air-fuel mixture therein.
After the opening of the exhaust port, as the piston is further approaching the BDC, the transfer ports open and pure air from the turbocharger pushes the remaining burnt gas out of the cylinder; later the well prepared air-fuel mixture from the space underside the piston crown overfills the cylinder after the closing of the exhaust port. The scavenging completes with a gust of clean air from the turbocharger; this air pushes any fuel in the passageways of the "asymmetric' ports into the cylinder.
Its architecture minimizes the number of bearings and the frictional losses.
It also minimizes the weight.
Even when it runs extra lean (say, AFR=2) it can still provide top specific power.
Thanks
Manolis Pattakos