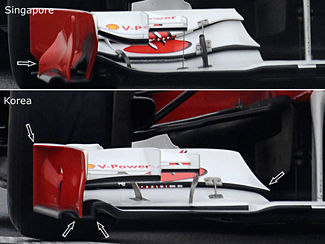 With the focus now completely on 2012, Ferrari were earlier this week reported of working against the clock to get a new front wing ready for the Korean GP. And somewhat unsurprisingly, they got it done in time.

Ferrari's new front wing is a completely different beast to the previous versions fitted on the F150° Italia. The main plane of the wing is now entirely flat until very close to the endplate. The main plane is now also slotted, and together with a single flap on top of it replaced the 3-element front wing that was used in Singapore and on most Friday runs at Korea.

Perhaps the most interesting bit is how Ferrari have moved the endplates further outboard, increasing the wing's width inside the endplates. This creates a much simpler endplate that is now a single element, while it also increases the width of the stacked flap.
---
Comments
By Tomba on 15-10-2011 at 07:58
Alonso is running the new front wing on Saturday sessions and therefore also in the race. Massa is using the older version.
---
By J3rrYcid on 11-10-2012 at 10:49
What difference did it make with the car overall? I presume that it helped with the airflow, but how big a difference could it possibly make?with it change they make, the driver has to get used to the new performance with the car. Would it jeopardize his performance?
---
By maxblack02 on 20-10-2012 at 01:53
The Ferrari team really did a fast track on this front wing. They did an excellent job in a short period of time. I would be glad if carparts like this one would be available on production sports car so we can adjust aerodynamic of your car without putting so much bucks in buying aftermarket parts.
---
By Peter76 on 08-05-2013 at 08:35
Front wing aerodynamics – ask this from any F1 fan, and they would go on and on about the developments and updates and how updates related to this would improve a car's performance. This was a topic of discussion when I joined my brother-in-law and his staff from his own garage (he has his own business fixing cars and selling accessories). It was there I understood better that front wing is a vital component for a car because it is where the passing air first meets the car. Any slight modifications with it will affect the aerodynamic performance of the car during an F1 race. BMW was the one of the few who first tested the front wing modification in late 2008 ahead of the 2009 F1 season. It did not look pretty, but it indeed improved BMWs performance.
---
Add comment
Please register or log in with your account to comment on this blog entry