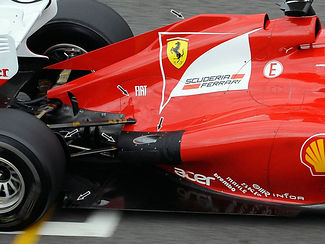 As was widely anticipated, Ferrari today debuted another version of its exhausts in an attempt to resolve some of the car's issues that have hampered its drivers to fight at the front during the first 4 races. The change, although quite dramatic compared to what the Ferrari had so far, shows that the Scuderia continues to follow its very own path in this area.

After relentless experimentation with exhausts inside the well known acer ducts, the new design blows the exhaust gases out of the car on the upper side of the sidepod. This design iteration puts the exit location in a similar position to the Sauber C31 and the Red Bull RB8, but without the subsequent ramp on the sidepods. As a result, exhaust gases are likely to flow much higher above the diffuser. It does however not exclude the possibility that part of the exhaust gases will bleed around the outside of the acer duct and end up close to the car's floor.

To ensure that the exhaust flow no longer overheats the tyres as much as the first design used to, Ferrari changed the surrounding bodywork as well. First of all, the acer duct itself remains, but its exit is now solely a hot air exit, allowing the team to drastically reduce the dimensions of the central tail funnel which became the general rule. In addition to that, the bodywork was tightened up - you can see bumps or internal components around the FIAT trademark and the engine cover design was reworked at the top.

In addition to that, the car also debuted rear brake ducts Wiliams style. This allows the brake ducts to get air from a layer close to the inner tyre wall, and prevents it from inhaling too much hot exhaust gases which would eventually reduce braking performance.

Finally, also note the three small openings ahead of the rear wheel in the car's floor, a feature copied from Sauber. This attempts to get additional high energy airflow under the car's floor and into the suction area of the diffuser, generating a tiny bit of extra downforce.
---
Comments
By maxblack02 on 20-10-2012 at 05:45
Ferrari's aim to ensure the flow of exhaust will not over heat is great since they have installed new carparts on their f1. the design really changed a lot and it would not be much of a surprise if others would copy it.
---
By Peter76 on 17-01-2013 at 10:24
A great implementation of a new exhaust system well complemented by new set of surrounding bodywork. Excellent supporting features to enable the new exhaust system to work well and not jeopardize the entire car design.
---
Add comment
Please register or log in with your account to comment on this blog entry