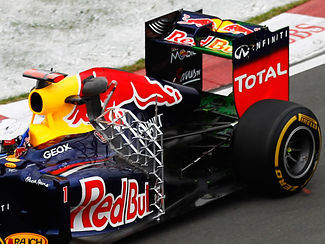 Red Bull Racing fitted Vettel's RB8 with an interesting aerodynamic evaluation system. While a grid of pressure sensors is not quite new as many teams have been using that during tests since a few years, it is however interesting to see how Red Bull made a custom grid that perfectly fits the shape of the sidepod, allowing to measure the flow speed in the boundary layer around the sidepod as well as further above the car's body. The grid features 34 individual sensors, each connected to a hub, in this case mounted into a bulge fitted on the left side of the air box, where data is gathered.

However, as if this was not enough, the left part of the rear wing, including the lower beam as well as the upper elements have flowviz applied to visualize the airflow onto and over the rear wing elements.
---
Comments
By elmerfud on 28-06-2012 at 13:08
I wonder if you filmed with an infrared camera if you see a the flow behind the car from cold or hot gas maybe coming from those tubes?
---
By knighttony13 on 29-08-2012 at 08:29
Ferrari is getting very serious in the aerodynamics aspect of their car. They really spend a lot of time and money to explore and experiment for their car's perfection. This is the main reason why Ferrari never had vehicle recall in their production line.
---
By J3rrYcid on 03-09-2012 at 09:38
Pressure sensors are certainly not new, as many other teams have been using them to test their car's performance. However, what Ferarri did was slghtly different, and it will allow the engineers to get even more accurate readings of speed, and they would have more data to play with.
Thomas - http://www.carid.com
---
By Peter76 on 16-05-2013 at 08:55
When I first saw this grid fitted on the Red Bull racing car, I was curious about it on how it works and later on I read on some sites on how it worked and how it gathers data about the car's aerodynamics and how this data is consumed and evaluated, it was amazing. But so far, amongst the aerodynamic news and updates on F1 cars, I have not seen so far any that concerns the BMW. I have tried to scan some websites, but so far, I have only seen McLaren, Toro Rosso, Ferrari and Caterham but not BMW.
http://www.pmwltd.co.uk
---
Add comment
Please register or log in with your account to comment on this blog entry