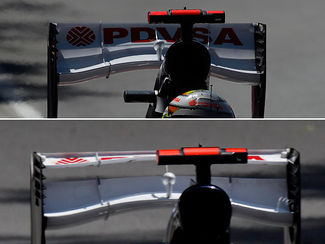 Williams designed a new one-off low downforce rear wing for the Canadian GP, which unfortunately for the team didn't pay off. In fact the special rear wing did not offer a big top speed improvement, at least not compared to what other teams came up with. During qualifying for instance - which is of course always with DRS open at the speed trap, the drivers posted 318.8 and 317.8 km/h, good for 19th and 20th positions on the top speed rankings.

Interesting as well is how this is a competely different rear wing to Williams' unraced 2011 Canada spec wing. Last year, the team opted for a design with raised outer edges, while this year's wing obviously features a raised central part.
---
Comments
By Kiril Varbanov on 07-07-2012 at 14:10
The concept is not totally new, similar wings, though rather W shaped, as Renault first did in 2010.

I would suppose that prime reason for such design would be that the center section of the wing will retain lower pressure, and such effect would cause subsequent lower pressure levels at the wing tips, meaning less vortex as well.

Generally, the wing tip vortex will have low pressure core, but their overall strength is resultant of pressure differential between upper and lower wing surface, so reducing it in one side of the equation would mean less wing tip vortex, too.

That's my humble aero guess, we haven't seen whether this had the desired effect, but the wing was raced anyway.
---
By maxblack02 on 27-10-2012 at 13:31
i love the idea of this new concept which made Renault's image more great for me. After knowing that they are having aftermarket car parts that are generally fantastic, there is no doubt that they are going to make it on the top again.
---
By J3rrYcid on 26-12-2012 at 10:25
I think testing of rear wing is a very difficult issue. Rear wing is supposed to generate a downforce on the car so as to enhance the car's performance. Even when everything was perfect on simulation and test, the actual case by not be a hundred percent accurate. It is a pity that their rear wing design did not pay off this time. Maybe it will be better to stay with raised outer edges next year. I hope that William will continue to come out with improved auto parts next year! http://www.carid.com
---
Add comment
Please register or log in with your account to comment on this blog entry