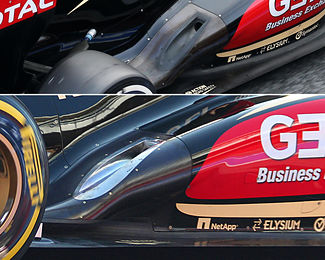 Lotus is continuing to try out different versions of its exhaust channel, trying to maximize rear downforce. Davide Valsecchi was this morning testing again with an inconel exhaust channel, featuring a different curve and depth. Similar parts were spotted earlier on at the Jerez test.

The team earlier noted that the inconel metallic parts are not being used to resolve overheating issues with the carbon fibre exhaust channel. In fact, the inconel parts are easier and quicker to manufacture and are much more durable than the carbon composite parts. This allows the team to test various options quickly, albeit with a slight weight penalty for the metallic parts.
---
Comments
By Tomba on 17-03-2013 at 21:08
And again, on Friday at the Australian GP, the team was once more evaluating different exhaust options to see what worked best on the particular track.
---
By gareth on 26-03-2013 at 17:03
Yes weight may be a slight penalty but the turnaround time in testing outweighs the result. I design parts for our company and the the best way to ensure the optimum out put is through testing testing and testing. I follow trends in F1 exhaust design as it gives us an opportunity to get better products to the market without spending F1 type R&D cash.
---
Add comment
Please register or log in with your account to comment on this blog entry