Mercedes follows Lotus to trial DRD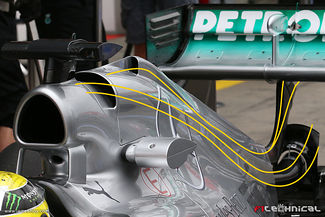 Mercedes have tested a new evolution of the passive DRS, more commonly known as drag reduction device. The team trialled it on Nico Rosberg's car early in FP1 before removing it to get on with more conventional development work. Last week, Lotus also revived its DRD and even debuted it in the race on Kimi Raikkonen's car.
Mercedes' new version clearly underwent development since the Barcelona winter test where the team last tried it. The car configuration with DRD features an additional arc-shaped inlet just behind the airbox, followed by two even smaller inlets further downstream. Both these inlets are not present on an F1W04 car without DRD, hence it looks like both of these are used to powered the drag reduction system.
As indicated, air flows through ducting to the rear of the car, either through the upward duct that helps stall the rear wing, or through the neutral duct that exits underneath the monkey seat, just above the beam wing. Both ducts are likely meeting underneath the bodywork to form a fluid switch which then forms the core of the device to make sure the rear wing isn't stalled when maximum downforce is needed.
Interesting as well are the different outlets compared to the Lotus version. While Lotus previously had the upward duct connected to its rear wing but then decided to leave a gap, Mercedes went the other way around and now has its DRD duct connected to the bottom of the rear wing. This duct also features different outlet channels to help increase the stalling effect.
The neutral duct under the monkey seat also features a few internal fins, helping to condition the flow as it is extracted by the monkey seat, acting here as a mini diffuser.