New Ferrari sidepod panel makes it to race day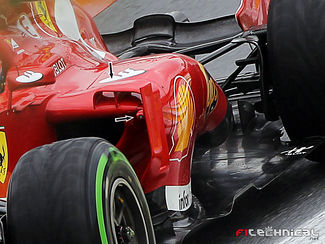 Scuderia Ferrari have introduced another part to their F138, namely a new sidepod panel with a small bridge bending over the sidepod shoulder. The item was previously tested during free practice sessions, but before the Brazilian Grand Prix weekend never made it past Friday evening. At Autodromo Carlos Pace however, both cars had the new element fitted during qualifying, hence they will also be used during tomorrow's Grand Prix.
The item is designed to better control airflow over the sidepod in an attempt to enhance the way the coanda exhaust works. The two vertical vanes that sit underneath the bridge to connect the panel to the sidepod itself are directing air slightly outward, possibly in trying to get slightly more air around the shoulder and towards the sides of the sidepod.
Contrary to many other vertical fins that can seen on McLaren for instance, Ferrari's element is not designed to create vortices, as the bridge acts as endplates for theirs, something that is specifically designed to reduce vortices coming off the tips of winglets.
Also note, as marked by the arrow, the little camera that Ferrari uses on the sidepod panel. This is a heat camera used to monitor the front tyre's temperature, similar to Mercedes AMG's cameras fitted on the front wings.