Did Mercedes take a close look at the RB10?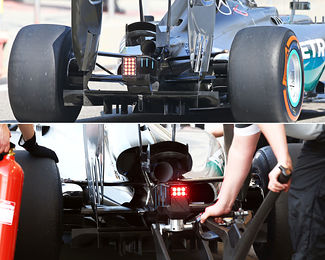 Having enjoyed a reliable test Jerez, Mercedes have begun varying aerodynamic parts and verify performance, rather than only reliability. Mercedes appear to have had a very close look at Red Bull's rear end packaging during its few outings at Jerez as the team have introduced new bodywork around the exhaust.
Until noon, the F1 W05 was seen with the same spec as in Jerez, with narrow bodywork around the central exhaust and large oval cooling outlets on each side of the gearbox. The new bodywork as in the lower part of the image shows how more air is now exited around the exhaust, allowing for a cleaner flow lower down to the floor. The solution is far away from the layout of the Red Bull, but the inspiration of Red Bull's central funnel, also seen on the RB9 is obvious.