Honda repositions oil cooler on new engine spec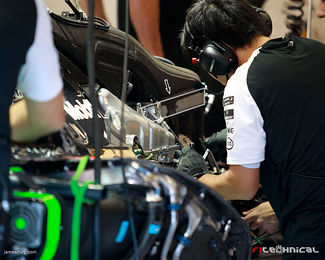 Honda have spent 3 of its 7 development tokens to resolve some of the most important issues of the carmakers' current F1 power plant, and subsequently made the upgraded engine specification available to McLaren for initial running on Friday at Spa-Francorchamps.
Part of the engine's upgrade include modifications on the combustion chamber, the intake and the exhaust system layout in an attempt to increase efficiency. The team have also reduced mechanical friction by changing the gear train system.
One visible change to the engine is the relocation of the oil cooler, as marked in the image. This cooler was previously and uniquely mounted high up in the engine cover, behind the airbox, and therefore somewhat apart from the engine itself. As the picture shows, this radiator has been moved to above the gearbox, slightly angled upwards to the back. The new location has reduced the length of the connections while enabling aerodynamicists to reduce the volume of the roll hoop and move the central outlet funnel lower down to increase rear wing efficiency. There will of course also be the benefit of the lowered centre of gravity, improving the car's cornering characteristics.
Also note that Honda's upgrades are not all present on the engines introduced at Belgium, with some items to be added and changed at the next two races.
At Belgium only, Jenson Button amassed penalties to drop him 50 grid positions, while Fernando Alonso totalled 55. Both had two new internal combustion engines fitted on their cars, 2 turbo chargers, 2 MGU-H and 2 MGU-K units. The Spaniard in addition took another penalty for the use of the 6th electrical control unit. The strategical solution enabled the McLaren drivers to take the penalties by dropping just 2 grid positions each, thanks to a rule change that made the penalties non-transferable to the next races.