Red Bull sort out bargeboard panels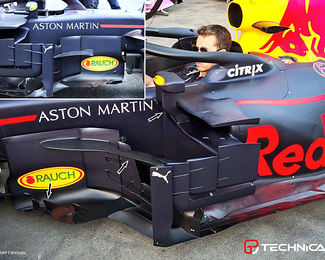 In what continues to be a crucial area of aerodynamic development, Red Bull Racing turned up in Australia with an improved version of their barge board panels, which make up for a quite complicated set-up, even this early in the season. Thanks to the stable regulations, teams are happily continuing the development paths of last year, even though further downstream, Red Bull's high sidepod inlets are a big change compared to their 2017 RB13.
Still, the barge boards were complex at the car's launch, but once the car hit the track in Barcelona, it was found that the set of winglets was moving a bit too much, leaving the team with inconsistent aerodynamic performance numbers. It made the team chose to run their car without the appendages throughout most of winter testing, while at the factory, work began to rectify the situation.
The result could be seen in Australia, with the RB14 equipped with a boomerang-style element, very similar to what Williams have. This helps strengthen the entire setup, along with the other joins that keep each flap in position, relative to one another.
Also of note at the new vortex generators standing up on the leading edge of the floor, and a new twin wing mirror support, with the outermost element now connecting to the fairing that included the side impact crash structure - notable mounted below and ahead of the sidepod inlet, similar to Ferrari's design.