Shadow Racing Team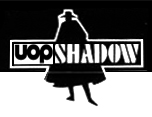 Based in: Northampton
Founded: 1968 (active 1973-1980)

Principal: Don Nichols
Designer: Tony Southgate (1973), Dave Wass (1973-1976), John Baldwin (1978), Richard Owen (1979-1980), Vic Morris (1980), Chuck Graeminger (1980)
Don Nichols, the founder of Advanced Vehicle Systems built his first car for CanAm racing in 1970 and whilst continuing to race back home, set up an English establishment for a serious and occasionally successful F1 venture.
For his first driver Nichols turned to his Can-Am star Jackie Olivier who helped in securing sponsorship from Universal Oil Products (UOP). For his designer Nichols opted for Tony Southgate, formerly of BRM and the team got started by supplying kit cars to Graham Hill's Embassy team. The first works effort was the DN1, a Cosworth powered car, that regularly ran in the top half of the field.
During 1974 Oliver concentrated on driving the Can-Am cars while Frenchman Jean-Pierre Jarier and Peter Revson manned the F1 cars. Things looked like they were heading in the right direction until tragedy struck, when Revson was killed in a pre-season practise session at Kyalami. Revson was briefly replaced by Brian Redman who soon handed over to Tom Pryce. Pryce started well winning the Race of Champions in 1975 while Jarier often got close to the dominant Ferrari of Lauda. Solid results failed to materialise and at the end of the season UOP withdrew their support.
Oliver had by now quit driving and helped in the design of the DN8 while also securing additional sponsorship. Pryce was joined by Renzo Zorzi, the surprise winner of the 1976 Monaco Formula 3 race but once again tragedy struck the team. The venue was again Kyalami. Zorzi stopped his car on the main straight and an over-zealous marshal attempted to cross the track to stand-by in the event of fire. Pryce crested a blind brow and struck the marshal, killing him instantly. Pryce was struck in the head by a fire extinguisher and by the time his car came to rest he was dead.
Alan Jones replaced Pryce and gave the team a much needed lift with a win in the wet-dry race at the Osterreichring. Financial pressures were never far away and the team split with Oliver, Rees and Southgate all quitting to set up their own operation, namely Arrows. The first Arrows car, the A1, looked a lot like the unfinished DN9 design and Nichols got a High Court judgement that prevented Arrows from racing the car. The Shadow team continued for three more years but never emulated their early success and closed their doors in 1980 when Teddy Yip's Theodore Racing operation took over the team.
Cars