Spirit Racing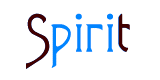 Based in: Slough
Founded: 1981 (active 1983-1985)

Principal: John Wickham, Gordon Coppuck
Technical director: John Baldwin
Spirit was an F1 team set-up by two March F2 employeers, John Wickham and Gordon Coppuck. It was created with secret support from Bridgestone and in partnership with Honda to prepare for the Japanese carmaker to return to racing. The team started work in Honda's former 500cc motorcycle team headquarters in Slough.
This constructor backing, along with sponsorship from Marlboro, also created confidence for engineers to join the team. One of those was McLaren designer John Baldwin who happily joined the team to start work on the Spirit 201.
The 201 raced in Formula 2 from 1982 to 1984 with a 2 litre naturally aspirated engine, but for F1 Honda prepared a 1.5 litre V6 to be raced in 1983. The car debuted in the non-championship Race Of Champions at Brands Hatch.
The first F1 championship event for Spirit was the British GP of 1983 with a lighter version of the original 201, dubbed the Spirit 201C. In its 6 entries, the car's best finish was a 7th place.
Towards the end of the summer, Honda however pulled out of the project and moved its engines to Williams, leaving Spirit to struggle for money, and therefore also lacking a competitive engine to fight at the front. The team eventually folded 3 races into the 1985 season as money ran out.
Cars