Brawn GP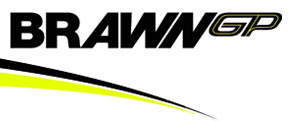 Based in: Brackley, UK
Founded: 2009 (active 2009)

Principal: Ross Brawn
Chief Executive Officer: Nick Fry
Head of Aerodynamics: Loic Bigois
Sporting Director: Ron Meadows
Brawn GP is the factual continuation of the Honda Racing F1 team based at Brackley, albeit with totally different team ownership. Due to Honda pulling out of Formula One, Ross Brawn emerged to take over the team and assumed the principal role after having worked only a single year at Brackley for Honda.
Brawn GP started its Formula One racing life with the same drivers that Honda left it with. Button and Barrichello were two trusted assets that were important for the team's stability as so much changed behind the scenes. Despite all these changes, it soon became obvious that Brawn GP had good cards on hand to play in 2009 as Honda had invested massive amounts of money into the new car before pulling out.
The BGP001 was the result of 3 parallel projects at Honda aimed at maximising the potential of the drastic rule changes. A late engine-supply deal with Mercedes meant the team missed the first winter tests, but even before having run the car on track, the team's calculations showed it car was capable of much more than what other teams were managing during that first test. With a double-deck diffuser as an essential part of the car, the BGP001 proved the class of the field and dominated testing, along with the first half of the season.
In fact it was so good that the team switched its attention to 2010 early on, only to put back some resources for another 3 weeks later on so that the team would be able to secure the World Championships. Red Bull had made massive progress and started to dominate halfway through the season. The extra 3 tenths with the latest step of the car proved enough however to secure both titles, with Jenson Button becoming the World Champion for the first and only time in his career.
At the end of this immensely succesful debut season, the team was sold to Mercedes on November 16, 2009 and continued on as Mercedes GP.
Cars
All Formula One cars of Brawn GP

| Car designation | Race years |
| --- | --- |
| Brawn BGP001 | 2009 |