Rial Racing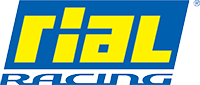 Based in: Fussgonheim, Ludwigshafen, Germany
Founded: 1987 (active 1988-1989)

Principal: Hans Gunther Schmidt
Chief designer: Gustav Brunner (1988), Stefan Fober (1989)
Rial Racing marked a brief return of Gunther Schmidt to Formula One. After he was unable to sustain funding from his allow wheel firm ATS to the identically names ATS Formula One team, he sold his company and moved on to start a new one, Rial, also doing business in light alloy wheels. A few years later, that made enough money to invest in F1 again.
On paper his second effort looked much improved with a car designed by Gustav Brunner. There was also a fourth place finish during 1988, but the repeated crashes by De Cesaris and the inability to rebuild the car each time made Brunner move on to Zakspeed at the end of the first year. He was then replaced by Stefan Fober who created a car that was much less agile, often failing to qualify.
In two years of competition the team scored just a handful of points and the cars - often dubbed 'the blue Ferraris' retired from racing for good, just as well as Zakspeed, the other German team in F1.
Cars