Ferrari's new front wing: 3 Fridays, no racing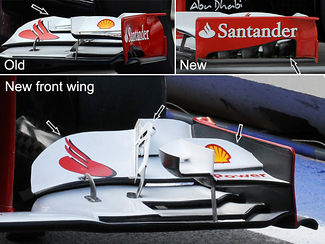 Since their major car update at the European GP in Valencia, Ferrari have been testing a new version of its front wing. Since then, the wing has appeared in every free practice session on Friday and Saturday, on both cars, but at no occasion has it been used to race. While the visual changes do not seem to be major, the new wing certainly has an interesting influence on the car's balance given that the team prefer to test it a little bit longer. Of course, the rain in Silverstone and Hockenheim have not helped the Scuderia in this respect.
Either way, the new wing has a smoother curve on the trailing edge of the upper flap. The stacked element was reduced in size slightly, but it seems that the changes around the endplate are most important for this update. The new iteration features much larger apertures that allow air flowing outward of the endplates to be sucked into the low pressure area underneat the front wing's flaps. There, is is flowing faster and upward, generating downforce.
Along with the angled front wing adjuster, air getting underneath the outer extremities of the wing is used for downforce and at the same time directed as much as possible around the front wheels. This should help reduce drag a little bit but can also greatly influence the car's balance as it will change the flow field in the wake of the front wheels.
Further proof of the importance of this area is the cut in the flap of the stacked element where it joins the endplate - aside of the Shell logo, as marked with an arrow. This cut is specifically designed to reduce the strenght of the vortex that comes off of the front wing at the arrow's location. While this reduces somewhat the downforce generation of the stacked winglet, it reduces the amount of air that is spilled over the top of the endplate. This, again, would have an - apparently unwanted - influence on the flow around the front wheel.