Mercedes AMG revert to old exhaust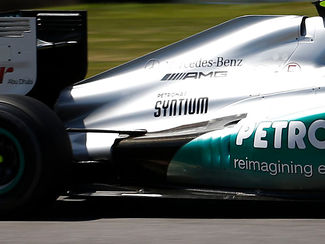 Already at the US GP in Austin 7 days ago, Mercedes AMG surprised by fitting Nico Rosberg's car with the old exhaust solution, favouring it over the Coanda solution that the team development following the example of McLaren. In Austin, the team wanted to do a direct on-track comparison to see the benefits and disadvantages of the Coanda exhaust solution. It is no secret that ever since its introduction, the team failed to get it to work properly, while the downwash of the exhaust gases also heat up the rear tyres.
Now in Brazil, with tyre warmup not a problem like in chilly Texas, both cars have the old exhaust layout. Norbert Haug mentioned that this option was chosen to be able to do a proper tyre test, comparing the car at the beginning of the season with that at the end. Although not mentioned by Haug, Pirelli also brought 2013 prototype tyres to Interlagos, something that Mercedes undoubtedly wanted to try out without having to work out how the Coanda exhaust influenced the test data.
The team is however focused to fit its 2013 car with a Coanda style exhaust, as Haug mentioned: "But it is very clear that you have to have Coanda next year, because it gives you a benefit." The first problem for Mercedes is of course trying to resolve their extremely high tyre wear which almost no team can match. In fact, in Austin, the team simultaneously struggled to get its tyres warmed up while also suffering from high thermal degradation.