New front wing for McLaren at USA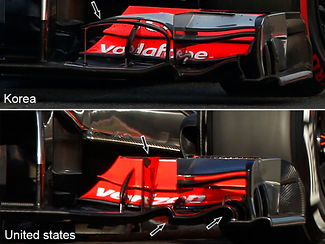 McLaren have made a fairly major change in front wing design with their newest iteration introduced at the American GP in Austin. The new design drops a few McLaren-only styling elements, such as the sharp steps in the wing's main plane, as well as removing the r-winglet.
Generally speaking, the new design, and particularly the items that were changed appear to be inspired on Lotus F1's front wing. Therefore, the new wing features curves in the main plane, leading to a very different connection of the wing's elements to the endplate. There, the seperate downforce generating panels now curve down onto the floor plate of the endplate as seen with several others teams as well. The change will help manage airflow around the front wheels, and hopefully gain downforce that was dropped at the front by removing the r-winglet in favour of the new vertical flow conditioner - which will obviously create no downforce for the front wing itself.