Ferrari finds new front wing is an improvement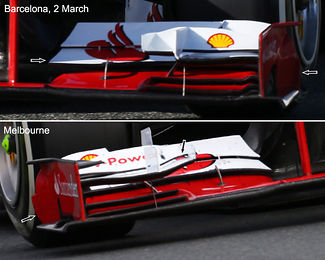 Ferrari have used their new front wing debuted at the final Barcelona test throughout the entire Australian GP weekend, showing it confirmed the new part to be an improvement for the car. When comparing this to last year, where the Scuderia had various new parts tested that eventually failed to work in real life, the new parts coming from Toyota's wind tunnel appear to be working straight away. This alone is a great sign for Ferrari that will build confidence within the team.
The new wing was tested at Barcelona and features a different endplate, a wider and differently shaped stacked element and detail changes on the inner edges of the white, standing flaps. Altogether, it still is surprising to see Ferrari run a front wing without any bulges in the lower profile, something that is not seen on any other car at the moment.