First race and immediately a new front wing for Lotus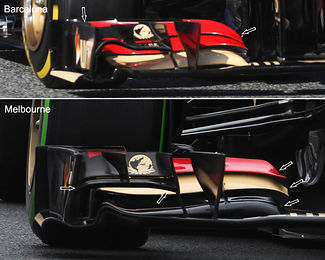 As if it was still 2012, Lotus have kicked off the new season by introducing a brand new front wing on their E21. The team has been focusing on front wing development for years, and with seemingly great results, as performance has steadily improved in recent seasons.
The new front represents another fairly major step, with modified endplates and a more flat stacked panel. The most interesting feature of the front wing may however be the thickness of the lower flap, painted in black on the new version. While this is likely designed to make better use of the ground effect of the front wing, it also enables for the element to be ballasted, a common practice in F1 as it's an area that enabled weight to be positioned very close to the ground and a far forward as possible, enhancing its effect while not having a negative impact on the height of the car's centre of gravity.