Lotus to update suspension to control ride height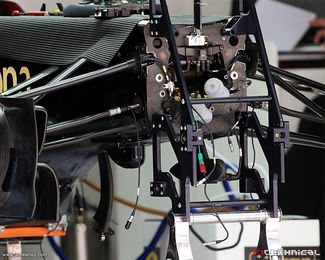 Lotus Technical Director James Allison has revealed that the team will introduce a new element in the front suspension that is mainly aimed at better controlling the ride height at the front of the car: "We will trial a suspension modification – internal rather than to the wishbones – which is an evolution of something we ran to good effect during pre-season."
Allison does not reveal what exactly will be tried, but his further comments claar up a few things: "You're always trying to find the right compromise between the mechanical grip that the suspension's articulation offers to the tyres and holding the aerodynamic platform at the optimum height from the road, and we believe this is a step forward in helping us achieve that."
Indeed, each team is aiming to attain the best possible ride to make sure the tyres keep into contact with the track over their entire width. Even though that is possible by softening up the suspension, doing so at the front would induce the need to raise the front as brake dive would be more pronounced. This on the other hand will adversely affect aerodynamic performance. Lotus' new system, whatever it may look like, is certainly different to the system that was banned in January 2012 but similar in its purpose. The new update is therefore either aimed to improve the frontal ride or to maining the same suspension behaviour while allowing to the run the car a little bit lower than before. Either way would help the car's performance and will raise interest from other teams if the modification proves effective enough to use in races.