Lotus E21 Renault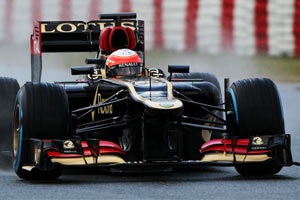 Active: 2013
Team: Lotus F1 Team

Team: James Allison (TD), Naoki Tokunaga (DTD), Tim Densham (CD), Dirk De Beer (HA), Gerard Lopez (Chairman), Eric Boullier (TP), Patrick Louis (COO), John Mardle (OD), Steve Nielsen (SD), Alan Permane (CRE)
Drivers: Kimi Räikkönen (7), Romain Grosjean (8)
Lotus presented their 2013 contender on 28 January at the team's base in Enstone, UK. The car thanks its name to it being the 21st car built and designed at the same headquarters. The launched car was however once again just a teaser of what was about to come, with winglets fitted that would never be seen during testing.
The car's only real visible difference to its predecessor is the sidepods that feature ramp style exhausts, similar to the Red Bull RB8 and Red Bull RB9. Many revisions followed during testing and races, but the principle was maintained, contrary to an attempt made by Williams to introduce a similar exhaust and sidepod layout. The car retains the stepped nose as one of the only competitors in 2013, opting against the option of a vanity panel to smoothen out the step. The team's technical director, James Allison, said at the launch that the aerodynamic benefit just doesn't offset the added weight on top of the nose.
It soon appeared however that the car's strengths were mainly underneath the body as the Lotus E21 proved brilliant at managing its tyres, partly thanks to an enviable interlinked suspension system. In pre-season testing, as well as the beginning of the season, Kimi Raikkonen could easily move his way up through the field with consistent pace and one stop less than the competition.

Specifications
Chassis: Moulded carbon fibre and aluminium honeycomb composite monocoque, manufactured by Lotus F1 Team and designed for maximum strength with minimum weight. RS27-2012 V8 engine installed as a fully-stressed member.
Front Suspension: Carbon fibre top and bottom wishbones operate an inboard rocker via a pushrod system. This is connected to a torsion bar and damper units which are mounted inside the front of the monocoque. Aluminium uprights and OZ machined magnesium wheels.
Rear suspension: Carbon fibre top and bottom wishbones with pull rod operated torsion springs and transverse-mounted damper units mounted in the top of the gearbox casing. Aluminium uprights and OZ machined magnesium wheels.
Transmission: Seven-speed semi-automatic titanium gearbox with reverse gear. "Quickshift" system in operation to maximise speed of gearshifts.
Fuel system: Kevlar-reinforced rubber fuel cell by ATL.
Cooling system: Separate oil and water radiators located in the car's sidepods and cooled using airflow from the car's forward motion.
Electrical: MES-Microsoft Standard Electronic Control Unit
Braking system: Carbon discs and pads. Calipers by AP Racing. Master cylinders by AP racing and Brembo
Cockpit: Removable driver's seat made of anatomically formed carbon composite, with six-point or eight-point harness seat belt by OMP Racing. Steering wheel integrates gear change, clutch paddles, and rear wing adjuster.
KERS: Motor generator unit driving into front of engine with batteries as an energy store. Motor Generator supplied by Renault Sport F1. Electronic control unit by Magneti-Marelli.
Dimensions
Front track: 1450 mm
Rear track: 1400 mm
Overall Length: 5088 mm
Overall height: 950 mm
Overall width: 1800 mm
Overall weight: 642 kg, with driver, cameras and ballast
Engine
Designation: Renault RS27-2013
Configuration: 2.4l V8
No of cylinders: 90° V8
No of valves: 32
Displacement: 2400 cc
Weight: 95kg
Rpm: 18,000
Fuel: TOTAL
Oil: TOTAL
Power output: approx. 750 bhp
Spark plugs: semi surface discharge
Ignition system: high energy inductive
Pistons: aluminium alloy
Engine block: aluminium alloy
Crankshaft: Nitrided alloy steel with tungsten alloy counterweights
Connecting rods: titanium alloy
Throttle system: 8 butterflies
---
---