Ferrari's Monza package, front end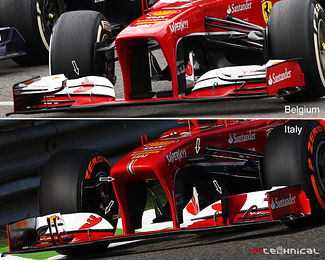 Ferrari have traditionally put a lot of effort into their home Grand Prix package, and this year is no different, although it seems that the other top teams have put in quite some effort as well. Contrary to Spa-Francorchamps where one needs great front stability along with less drag, Monza is even more about drag reduction and top speeds, as there are less corners that require a large amount of front downforce.
Just like many other teams, Ferrari brought a new front wing that features no stacked elements, along with a single, differently shaped flap. The interesting bits are the two vortex generators, standing vertically on the wing's main plane. The result are two vortixes immediately ahead of the inner sidewall of the tyre. It looks likely that the team hereby attempt to ease airflow over the front wheel, while on the inside of the wheels swirls air down towards the ground.
One other interesting element is the nose, which again features a small bulge underneath, contrary to the nose raced at Spa. Even though Fernando Alonso was also seen running with an older front wing with stacked elements, the bulge underneath the nose is a constant, at a circuit where one could expect teams to remove the bulge. Also notice that along with the different nose, the cameras have been relocated from in between the front wing pillars to immediately ahead of the steering arm.