Red Bull pulling all stops for Monza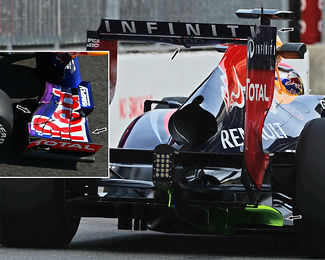 Red Bull Racing appears extremely determined to break the competition and secure the titles as soon as possible to be able to focus 100% on the 2014 project. As Monza hasn't been the strongest of venues for RBR, the team has gradually been pinpointing its weakest points and improving those, resulting in the impressive form displayed by the RB9 on Friday.
The team have basically brought two new front wing configurations. The first one featuring a cut out upper flap as used by Sebastian Vettel most of the day. Another version was likely shipped in in the morning, and lacked the stacked elements, with only a vortex generator - featuring the logo of Simply, the team's new partner - remaining on the front wing. That as well was used by Vettel (see inset). Mark Webber meanwhile used the Belgian front wing specification.
At the rear, the diffuser that was already briefly tested at Spa-Francorchamps made its return, featuring a gurney at the outer edges of the diffuser. The outer edges are also tapering down more than the previous diffuser, directing the extracted air more rearward, rather than outward and into the wake of the rear wheel.
Finally, the rear wing. One would think that the very shallow rear wing from Spa-Francorchamps would be used again too, but instead it was not seen again. It may be that the team found its benefits too small, warranting a further improvement of the design. Still featuring closed endplates without louvres on the high pressure size of the wing, the main plane is now curved downward in the middle. It's similar in concept to the one seen at Spa, except that at Spa the profile was straight with the leading edge slightly curved up in the middle.