Ferrari's make-or-break Singapore upgrade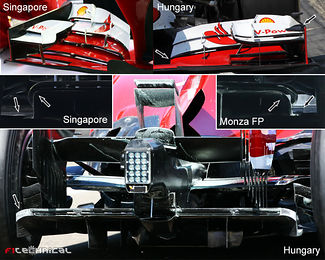 The Singapore Grand Prix weekend has repeatedly been dubbed as the decisive point in the season for Ferrari to see whether or not it should continue to develop its F138. In a final attempt to keep in the championship race, the team came up with a raft of updates and will evaluate after the race if it was enough to stay in the hunt for a championship. Initial Friday sings though show that Ferrari may have dropped back to the pace it had at Hungary and other high downforce tracks in the middle part of the season.
Part of the upgrade is a brand new front wing, seen on track on Fernando Alonso's car during FP1, covering the entire right side of the car with flowviz paint. The team reverted to the older front wing during FP2 for back-to-back comparisons. The new wing features a longer base plane and an extra slot on the innermost part of the flaps. The team though found that the effectiveness of the wing was slightly hampered by tyre marbles getting stuck in between the flaps, disrupting airflow.
Along with an attempt to add downforce at the front, the rear also featured modifications. The rear wing is again the high downforce specification seen at Hungary, including monkey seat and the slits at the trailing edges of the endplates. An evolution of a diffuser tested at Monza was also fitted to the car briefly at one point while also testing a more conventional version, also with the gurney curving over the edges of the diffuser. Interestingly, the prototype diffuser features a small curvature behind the cut-out in the floor to help get more exhaust gases underneath the floor to feed the diffuser and seal it from the rear wheels' wake.