McLaren runs simplest front wing of the year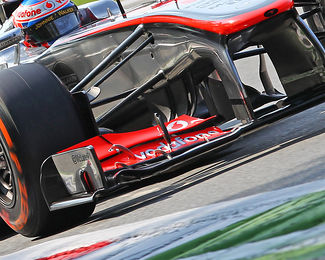 The McLaren MP4-28 hasn't been the greatest car of the year, particularly because of the change to a pull rod front suspension. The team admitted earlier that this is one of the reasons why the car is underperforming, as the aerodynamic effects of this change affected the entire car. McLaren largely underestimated the effort if would take, and consequently started changing the front wing early in the season to try to get the car back on track.
The result is a fairly simple front wing, especially compared to that of Red Bull or Ferrari, designs that famously feature a record 6 slots and 7 elements just ahead of the front wheels. McLaren took a more conservative route that is even more obvious on the Monza wing after the team removed the cascades. The upper flap was also considerably slimmed down for obvious drag reduction.