Mercedes debuts new, higher nose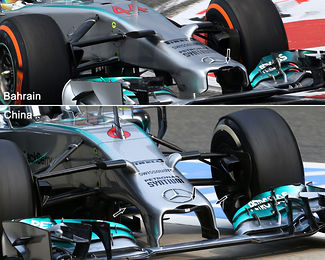 Mercedes AMG have finally introduced their bespoke new nose cone for its F1 W05. Initially scheduled for introduction at the Australian Grand Prix, the nose cone design had to be adapted repeatedly and failed the FIA crash test three times before passing the front impact test.
The team mentioned their new nose would make it easier to balance the car, admitting that the one raced so far was just a simple version while this development was ongoing. Sharing obvious similarities, the new nose cone is visible higher than before, allowing more air to flow underneath the car, aimed at increasing rear end downforce.
The new design is less bulky underneath while the upper surface is more linear, arguably making the F1 W05 look better. Just like with the first iteration, the front wing supports are still fairly thick as they are an an integral part of the team's strategy to pass the minimum section area of the nose.