Ferrari revives the blown wheelnut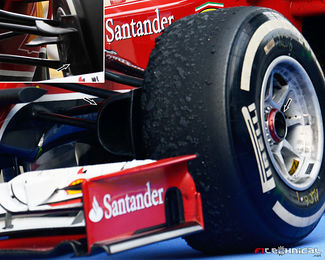 Ferrari have revived the blown wheelnut system by racing it at today's Chinese Grand Prix. Tried at the two day Bahrain test 2 weeks ahead of the Chinese race, the team found its system to be beneficial in managing front tyre wake.
Part of the system are much larger brake inlet scoops, fetching air flowing over the front wing. This is then directed through the wheel hub and exited via new open wheel nuts on the outside of the wheel. This means air is pushed from a high pressure area to a low pressure zone, helping to fill the low pressure area that is created in the wake of the front tyres.
This stream of air was initially thought of by Williams in the beginning of 2013 but abandoned after that season's Silverstone Grand Prix as the team found their system wasn't working properly in combination with the new tyres Pirelli introduced after the frequent tyre blowups at the British Grand Prix of 2013.