Ferrari trial revised bodywork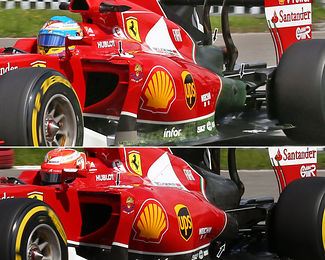 Ferrari have introduced a considerable upgrade package for their F14 T in Montreal, including a new floor and this more apparent new bodywork. Fernando Alonso was seen on track with the new bodywork layout while at the same time Kimi Raikkonen ran with the older configuration, allowing the team to do immediate comparisons in the pitlane and back in Maranello.
The update includes the removal of the air outlet around the exhaust, allowing for sleeker upper bodywork. The tradeoff are slighly larger outlets across the suspension arms, which interestingly extend further back as well, similar to Red Bull's layout and following the change that Mercedes did in Spain as well. Along with the modifications is a different sidepod panel as well with in particular a modified horizontal element.
The problem for Ferrari though is that they have considerable difficulty in determining what works on the car and what doesn't. On Friday evening, Alonso already mentioned that of all the new aerodynamic parts introduced, only the new floor is a certain improvement. This, combined with the knowledge of higher ambient temperatures on Sunday's race, the team opted not to race the new bodywork, instead aiming for another go at the next race.
Also interesting is that Ferrari are back at using their twin pillar rear wing. Both Ferrari's raced with a single pillar mounting and an additional monkey seat in Spain and Monaco but have opted for the old layout again at Montreal.