McLaren backtracks on suspension blockers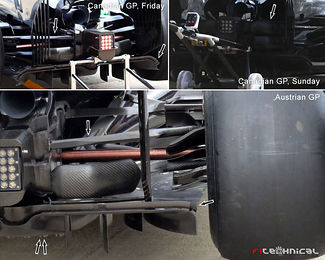 Along with its brand new front wing, brake duct modifications and floor edge updates, McLaren changed the configuration of the rear of its MP4-29 in Austria. A new diffuser was part of the car's aerodynamic upgrade package, featuring different curves at the outer extremities, allowing for a little more expansion in the diffuser. The winglet sloping around the edge of the diffuser has now been cut back, making it a very similar configuration to the diffuser that the team ran in the races before the Spanish GP.
McLaren have also, for the first time this season, raced its cars with blockers only attached on the lower track rods, making for 2 blockers contrary to 4 and thus virtually cutting their butterfly suspension in half. The team experimented with this layout in free practice in Canada but went on to race with the fully blocking suspension arms. This likely means that McLaren have finally found some additional rear downforce, making the upper and highly draggy blockers unneeded. It will be interesting to see if McLaren retains this layout for the next races, and even if or when they will decide to drop the lower blockers as well.
Finally, also marked in the image are a number of paired, converging strakes added in the central part of the diffuser. Each pair will create two counter rotating vortices, energising the air in this area of the diffuser. This particular design is more or less copy paste from Red Bull Racing, and so we may expect to see them appear on more cars as the season progresses.