McLaren MP4-29 Mercedes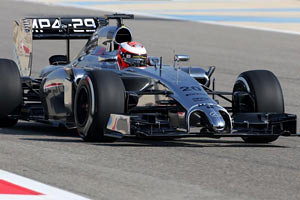 Active: 2014
Team: McLaren International Ltd

Team: Tim Goss (TD), Sam Michael (SD), Simon Roberts (OD), Neil Oatley (Director of Design & Development), Jonathan Neale (MD), Ron Dennis (McLaren Group CEO)
Drivers: Jenson Button (22), Kevin Magnussen (20), Stoffel Vandoorne (Res)
The McLaren MP4-29 is the last McLaren in an era powered by a Mercedes engine, a final iteration ahead of the team's partnership with Honda as of 2015. It's also the first turbo charged engine since McLaren became the last team to win a race with a turbo in the previous turbo era as Alain Prost triumphed at the Australian Grand Prix in 1988.
The car was officially launched on 24 January and than debuted on track on 29 January on the second day of testing at Circuito de Jerez, Spain. The team had failed to start the car the day before but as of its track debut then ran reliably an quick for the remainder of the Jerez test.

At the launch, McLaren claimed to have responded to the disappointment of its 2013 season by "pragmatically framing our approach to the technical challenge. The new MP4-29, revealed today, is a sensible and calculated response to the new regulations."
This pragmatic approach showed at the launch and at the first test, where it was clear the team went for a low nose without tricks to work around the regulations while also going for a very conventional, but possibly very efficient push rod front suspension. A technical analysis from the launch showed the car's potential of development, whereas at Jerez, the team immediately showed an innovative butterfly suspension.
Following reasonably promising running in pre season tests, the team immediately scored a double podium with Magnussen second and Button third following the disqualification Daniel Ricciardo at the Australian Grand Prix. After that however, things went downhill, with Button three times finishing fourth as the best results for the remainder of the season.
At the very end of the season, things started to progress as new Chief Engineer Peter Prodromou pushed ahead with a front wing design inspired by what he did at his former employer, 4 times World Champions Red Bull Racing. It essentially boosted the team for 2015, making Eric Boullier confident that his restructuring operations were starting to come to fruition.
McLaren ended the 2014 season with 181 points, good for a 5th place in the Constructors' Championship.
Specifications
Monocoque: Carbon-fibre composite incorporating driver cockpit controls and fuel cell
Safety structures: Cockpit survival cell incorporating impact resistant construction and penetration panels, front impact structure, prescribed side impact structures, integrated rear impact structure, front and rear roll structures
Bodywork: Carbon-fibre composite
Front suspension: Carbon-fibre wishbone and pushrod suspension elements operating inboard torsion bar and damper system
Rear suspension: Carbon-fibre wishbone and pullrod suspension elements operating inboard torsion bar and damper system
Weight: 691kg (including driver and lubricants, excluding fuel)
Weight distribution: Between 45.5% and 46.5% (as per the regulations)
Electronics: McLaren Applied Technologies. Including chassis control, engine control, data acquisition, alternator, sensors, data analysis and telemetry
Instruments: McLaren Applied Technologies dashboard
Lubricants & fluids Mobilith SHC 1500 Grease in drivehafts, Mobilith SHC 220 Grease in wheel bearings, Mobil SHC Hydraulic Oil for control actuators
Brake system: Carbon discs and pads, Akebono calipers and master cylinders. Akebono 'brake by wire' rear brake control system
Steering: McLaren Racing power-assisted rack and pinion
Tyres: Pirelli
Wheels: Enkei (Front: 12.0in x 13in diam., Rear: 13.7in x 13in diam.)
Radio: Kenwood
Paint: AkzoNobel Car Refinishes system using Sikkens products
Lubricants: Mobil 1 Engine Oil
Fuel: ExxonMobil
Dimensions
Overall height: 950mm
Overall width: 1800mm
Transmission
Gearbox: Carbon-fibre composite case
Gears: Eight forward and one reverse
Gear selection: McLaren Racing hand-operated, sequential seamless-shift
Differential: Epicyclic differential with multi-plate limited-slip clutch
Clutch: Carbon/carbon, hand-operated
Lubricants: Mobil 1 SHC Gear Oil
Powertrain
Designation: Mercedes-Benz PU106A Hybrid
Type: Turbocharged, 90° 1.6l V6, assisted with kinetic and heat ERS
No of valves: 24 (4 per cylinder)
Fuel injection: High-pressure direct injection (max 500 bar, one injector/cylinder)
Pressure charging: Single-stage compressor and exhaust turbine on a common shaft
Bore: 80mm
Stroke: 53mm
Crank height: 90mm (minimum allowed)
Energy recovery system: Integrated Hybrid energy recovery via electrical Motor Generator Units
Energy Store: Lithium-Ion battery solution, between 20 and 25 kg, by Mercedes AMG HPP
---
---