Force India continues to switch between engine covers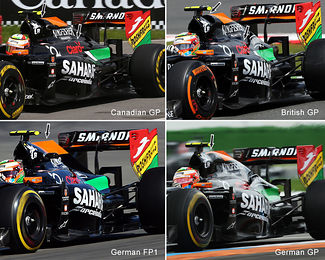 One month ago, at the Austrian Grand Prix, Force India introduced a major aerodynamic upgrade package on its VJM07, including a modified nose cone and different bodywork around the engine and exhaust. The difference is obvious around the "Claro" logo when comparing the Canadian specification to the car running at Silverstone. Tighter packaging is an obvious aerodynamic advantage and proved possible even while retaining the location of the oil cooler above the exhaust pipe, fed by the secondary airbox inlet.
In the German GP weekend, the team pushed on in this direction, now relocating the oil cooler to the sidepods, ditching the secondary inlet, reducing the volume of the car's upper bodywork even further. It is unconfirmed to me what exactly was not perfectly right with this package, but it may very well be that the shift of internal components did show an issue that needed to be resolved before racing it. In any case, at the German GP, the VJM07 was equipped with a rather strange combination of designs, featuring the Silverstone engine cover but with the secondary inlet closed off, possibly relying on internal airflow to provide sufficient air towards the oil cooler.
It is obvious this was a sub-optimal solution, and at Hungary, the team turned up with its Silverstone configuration once again, leaving the secondary inlet open to feed the oil cooler. It is probably safe to assume that the team will continue to try different configurations, especially given the high speed nature of upcoming races at Spa-Francorchamps and Monza.