Mercedes keep advantage with aero updates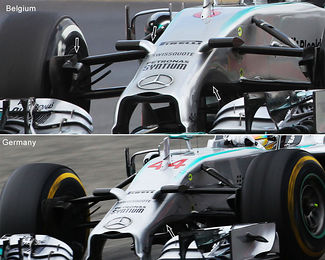 Mercedes introduced a considerable update package at Spa, making sure they kept their advantage to the competition. Possibly the most important of those updates was the revamp of the car's nose cone which required a new crash test. The new solution is smaller at its bottom and also slightly higher at the top - note how the supports for the cameras have become shorter. This not only gave aerodynamic gains, but according to G. Piola this also helped to reduce weight, a feature that was arguably the primary purpose of this update. It was reported that, including the team's latest package, the car is now 8 kg lighter than at the beginning of the season, allowing to move ballast rearwards to improve traction - even though this is still strictly limited by the regulations on weight distribution.
In combination with the new nose cone, the team also modified the turning vanes underneath the nose. Running a three-element solution for most of the year, they introduced a turning vane which consists of four elements to separate the airflow blocked in between the front wheels more precisely.
The rear wing was revised for the penultimate European round. The height of the moveable flap was decreased and to reduce drag its leading edge was cut in in four points forming a trio of waves. On Friday the team ran it with gurney flap which was then removed come qualifying.
Finally, the team also reverted to the basic one-flap monkey seat which was seen at the post-Silverstone tests, possibly a better solution for the lower downforce requirements of Spa-Francorchamps. It is hence reasonable to speculate that either this specification, or no monkey seat will be used at Monza.