Toro Rosso fits rear wing support through exhaust pipe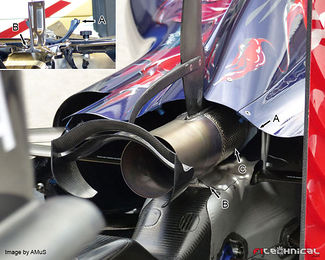 Introduced at the Australian Grand Prix and continued in Malaysia, Toro Rosso have designed a unique rear wing support that appears to protrude the engine's exhaust pipe. A central pillar is common to all teams to help support the aerodynamic forces exhibited by the rear wing to assist the rear wing endplates. Usually though, teams design a carbon fibre fork around the centrally mounted exhaust pipe, or otherwise create a carbon fibre mounting within the engine cover, above the exhaust pipe.
Toro Rosso have now gone for a very unconventional method, fixing a metallic support (marked as B) (most likely made of Grade 6 Titanium alloy) onto the gearbox housing. This support protrudes the exhaust pipe once bolted onto the car (via mounting A), providing a mounting point for the central rear wing pillar. The exhaust pipe itself has a teardrop shaped vane welded into it, fitting around the rear wing support (as confirmed by ScarbsF1). Crucially, that welding is not in the last 15cm of the exhaust pipe to be permitted in the regulations.
Obviously, this is technically a viable solution with less elements located in the airflow. The downside is a minor blockage inside the exhaust that may negatively impact engine performance, but it appears as if that doesn't outweigh the advantages for Toro Rosso.
Also note that Toro Rosso ran a 3-element monkey seat on their STR10 in Melbourne and a two element version in Malaysia (as pictured).
Finally, although not entirely clear, it looks to me like C is a heat insulation wrap around the exhaust pipe.