Scuderia Toro Rosso STR10 Renault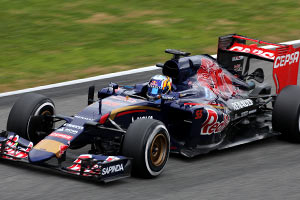 Active: 2015
Team: Scuderia Toro Rosso

Team: James Key (TD), Franz Tost (TP), Paolo Marabini (Chief Designer - Composite and Structures), Matteo Piraccini (Chief Designer – Mechanical and Systems), Brendan Gilhome (HA)
Drivers: Max Verstappen (33), Carlos Sainz (55)
The Toro Rosso STR10 is the tenth Formula One car from the Faenza-based team, and the second one powered by a Renault engine. The car was unveiled on 31 January by the team's new drivers, Max Verstappen and Carlos Sainz Jr. in the pitlane of Jerez circuit, one day before commencing the first winter test of 2015.
According to team principal Franz Tost, it's the best car ever made by his team, partly thanks from learning of earlier mistakes and because of a new Renault power unit, the 2014 version of which was found to be no match compared to the field leading Mercedes engine.
As ever, car shapes are influenced by the technical regulations, and the nose of the STR10 is the result on a clampdown by the FIA to get longer, lower and therefore safer noses in case of a T-bone crash. A wide and long nose was the result, with more at the back an obvious development from the team to reorganise internals more towards the centre of the car. This cleared up some space around the sidepods, making them more streamline than on the STR9.
Full technical analysis of the STR10 launch specification
The team's technical director, James Key however was quick to say at the launch that the car would change shape dramatically as the team just put together a launch car with initial development parts to get to reliablity testing.
"It will look quite different by the time we get to Race 1", Key said. "We've got several very new ideas which have gone into it, which the team is exploring for the first time, which makes it an interesting project. We've pushed the limits of timing much more with STR10 than with passed cars and we're dealing with it really well. We have a pretty aggressive plan for development. We'll turn up to Race 1 with a fundamentally different car to the one we run in testing."

Specifications
Chassis: Carbon-fibre monocoque
Front suspension: Upper and lower carbon wishbones, pushrod, torsion bar springs, central damper and Anti roll bars
Rear suspension: Upper and lower carbon wishbones, pullrod, torsion bar springs, central damper and anti-roll bars
Dampers: Penske
Brakes: Brembo Calipers, Pads and Discs. Scuderia Toro Rosso brakes by wire
Transmission: Toro Rosso, Aluminium alloy housing. Eight-speed sequential - hydraulically operated Supplied by Red Bull Technology. Longitudinally mounted
Clutch: Carbon fibre plates
Electronics: FIA standard ECU and FIA homologated electronic and electrical system (as provided by MES)
Tyres: Pirelli
Wheels: Apptech, magnesium alloy
Dimensions
Height: 950 mm (minus T camera)
Track width: 1,460 mm (front); 1,416 mm (rear)
Weight: 702kg (FIA mininum; incl. driver and lubricants, tank empty)
Powertrain
Designation: Renault Energy F1-2015
Type: Turbocharged, 90° 1.6l V6, assisted with kinetic and heat ERS
Valves: 24 (4 per cylinder)
Rev limit: 15,000rpm
Pressure charging: Single turbocharger, unlimited boost pressure (typical maximum 3.5 bar abs due to fuel flow limit)
Bore: 80mm
Stroke: 53mm
Crank height: 90mm
Construction: Cylinder block in aluminium
Exhaust: Single exhaust outlet, from turbine on car centre line
Injection: Direct fuel injection, limited to 500bar
Weight: Undisclosed (at least 145kg)
Total horsepower: Approx 850bhp
Energy recovery system: Energy Recovery Systems incorporating two motor generator units – the MGU-H, recovering energy from the exhaust and the MGU-K recovering energy from braking
Energy Store: Battery solution (up to 4MJ per lap), between 20 and 25 kg
---
---