Red Bull's pride fails to bring major improvement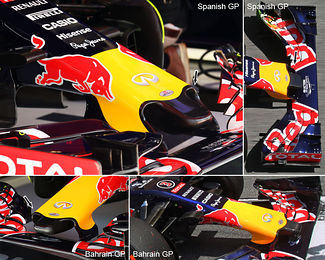 Red Bull's Christian Horner was proud as a monkey at Barcelona, where his team finally showed up with a short nose, following 14 internal and 4 FIA tests (as reported by AMuS), until at last a design was found to match the regulatory requirements. 2 days later however, the same Horner was quoted as saying "we'll have to look at 2016", effectively writing off the 2015 campaign after another disappointing race.
As mentioned by the team, the new nose is considerably shorter, having quite a big impact on the car's overall efficiency. There is consensus among teams that the shorter nose design is probably the best in the current regulations as it is the best solution to cope with the flow structures coming off of the standardised central part of the front wing.
With under-nose flow still very important, Red Bull arched the front wing supports backwards as well, creating a bigger aperture on each side of the "thumb" to get air pass underneath the nose cone and onto the splitter further downstream. The new nose similarly retains the tapering underneath, something that is also seen on the Mercedes F1 W06, also in an attempt to get more air underneath the centre of the car.
The new design is undoubtedly an improvement for the RB11, but their main problems continues to be the Renault power unit, and how that copes with the packaging restrictions in the RB11 chassis.