McLaren relieved to get data on short nose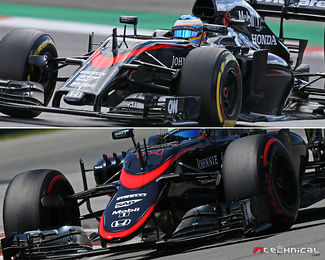 Only just validated in an FIA crash test, McLaren brought its new shorter nose to the Austrian Grand Prix, with the single available item to be fitted on Fernando Alonso's car. As was publicly stated by several teams in winter testing, short noses do have their advantages, particularly due to the mandatory neutral central section of the front wing.
Red Bull Racing is the other recent example of reducing the car's nose, even though it wasn't as radical a change as McLaren did, replacing its very long nose by a short version that hardly overlaps the front wing. The trick here for the team, as well as for Red Bull, turned out to be the frontal impact crash test, which this year specified a deceleration minimum for the first 150mm of the nose cone. While good for safety, the rule change was made to get rid of last year's finger noses.
McLaren's new nose cone is very similar in concept to that of the Williams FW37 or the Red Bull RB11, with a central section to meet the regulations, and as big as possible apertures left and right of that bulge to reduce aerodynamic blockage and increase under-nose airflow.
Alonso's first lap crash at the Austrian Grand Prix however didn't provide any useful data for the team, so McLaren continued on with comparison tests, both with Vandoorne and Alonso behind the wheel of the MP4-30 on Tuesday and Wednesday, resulting in two satisfactory days for the troubled outfit.
Alonso underlined after the test analysis at the factory still has to show if the new nose is an improvement: "I think we finished the test with some good information. Now, we need to go back to the factory and analyse everything, but we definitely have a lot of data to go forward with. I'm pretty happy with how the test has gone."
Along with the new nose, McLaren also introduced an updated front wing and new tyre squirt slots in the floor ahead of the rear wheels. The team is also understood to race a lighter monocoque at Silverstone, enabling engineers to have more ballast to move around the car as needed.