Mercedes debuts new 'Nose 1' iteration, including S-duct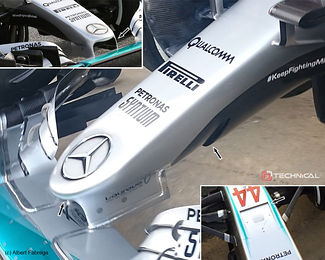 As was expect, the Mercedes AMG F1 W07 was equipped with a new nose cone when it left the pits on Thursday morning at Barcelona. Named 'Nose 1' by the team, it is the follow-up of the 'Nose 0' (inset, top left) that was used in the first three days of testing, and which was essentially the same as last year's nose cone.
The new one is a clear evolution of the same Mercedes concept. Rather than switching over to a thumb style nose, the team have retained the small nose box, rounded the tip of the nose a bit more and put the front wing support pylons closer together. The latter change is quite particular, considering that Red Bull, McLaren and Ferrari are all putting them as much apart from each other as possible while creating an aerodynamic shape to guide airflow underneath the nose. Perhaps that's not needed on the Mercedes, and it could well be, given the round profile of the underside of the new nose cone.
Interesting is also the team's new S-duct, which contrary to what other teams are doing, has its inlet in the nosebox, closely behind the front wing supports. The common practice here is to have the inlets at the front bulkhead, but Mercedes have made things a bit more complicated still, building a duct inside the removable nose cone to guide air to a small but wide outet. At the same time, the team have gone through the effort to integrate the cockpit cooling air inlet inside the chassis, instead of having the inlet bulge out of the chassis profile. This move is likely due to the S-duct implementation, as the two air fairly close together.