New front wing main item of aero upgrade of VJM09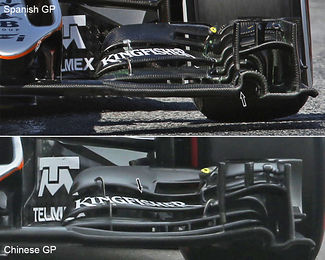 Like many other teams, Force India have introduced a major aerodynamic upgrade to their car, the VJM09. Even though the update was earlier announced to make the car look quite different, in essence it's detail changes, which nonetheless could have a large effect on the car's aerodynamic properties.
The car's new front wing, immediately fitted on both cars, is the most important item of the package and features an arc on the inside of the outer footplate, a design element seen on the Mercedes AMG F1 W07 front wing as well. Just like almost all recent front wing changes, this is in the area that plays a crucial role in trying to control airflow over and around the front wheels. The updated design creates a more pronounced channel underneath the wing's elements to expand air, thereby generating downforce while also kicking it around the front wheels as efficiently as possible.
Also marked in the image is the Kingfisher logo, the visibility of which clearly shows the modified profile of the flaps. These now appear to be more aggressive in attacking airflow ahead of the front wheels.
Part of the upgrade package was also the reduction of cooling apertures in the sidepods, mostly visible from the rear, where the openings have been greatly reduced. Also notice that the team dropped the monkey seat behind and above the exhaust pipe, although that is more than likely to return on the car at Monaco in two weeks time.