Sahara Force India VJM09 Mercedes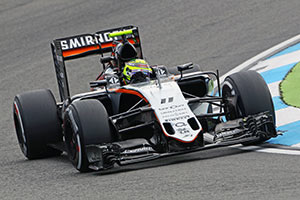 Active: 2016
Team: Force India F1

Team: Andrew Green (TD), Andy Stevenson (SD), Bob Halliwell (Production Director), Simon Philips (Aerodynamics Director), Akio Haga (CD), Ian Hall (CD), Tom McCullough (CE), Mark Gray (TM), Vijay Mallya (TP), Robert Fernley (DTP), Otmar Szafnauger (COO)
Drivers: Sergio Perez (11), Nico Hulkenberg (27), Alfonso Celis (34, Test)
Force India's 9th Formula One car was presented in the Barcelona pitlane on 22 February, just ahead of winter testing. The car is an evolution of the VJM08B, which only really completed its specification at the Singapore Grand Prix.
As the team was happy with on-track progress during the 2015 programme, and with large regulation changes in 2017 in sight, there was no point in starting afresh, instead going through with development of its existing platform.
Technically, the car again includes the latest spec Mercedes AMG power unit and gearbox (wrapped with a Force India-designed carbon fibre casing). It features the same nose cone as on the VJM08B, a concept which the team would carry over the next few years as well. For the design team, this sort of nose proved an ideal combination of a low drag design combined with reduced blockage thanks to the curved apertures. The car also featured notably smaller sidepod inlets and a very similar airbox to the VJM08B, even though the bodywork behind it starts to taper off further forward (closer behind the inlet).
The car proved successful out on track, powering the team to fourth in the Constructors' Championship, their highest ever finishing position in the team's history. After a difficult start of the season, with a single point scoring finish in the first 3 races, the team continued on with 29 points finishes from 18 races (36 starts). Two third place finishes by Sergio Pérez were the highpoints of the season.
Specifications
Chassis: Carbon-fibre monocoque
Front suspension: Aluminium alloy uprights with carbon fibre wishbones, inboard torsion springs, dampers and anti-roll bar assembly, actuated by push-rods
Rear suspension: Aluminium alloy uprights with carbon fibre wishbones, inboard hydro-mechanical springs, dampers and anti-roll bar assembly, actuated by pull-rods
Dampers: Koni
Brakes: AP Racing callipers with Carbon Industries carbon fibre pads and discs
Transmission: Mercedes AMG F1 8-speed quick-shift sequential carbon-cased gearbox, hydraulically activated. Longitudinally mounted
Clutch: Carbon fibre plates
Electronics: FIA standard ECU and FIA homologated electronic and electrical system (as provided by MES)
Steering wheel: Sahara Force India F1
Tyres: Pirelli
Wheels: Motegi Racing, forged magnesium alloy
Dimensions
Height: 950 mm (minus T camera)
Track width: 1,460 mm (front); 1,416 mm (rear)
Weight: 702kg (FIA mininum; incl. driver and lubricants, tank empty)
Powertrain
Designation: Mercedes-Benz PU106C Hybrid
Type: Turbocharged, 90° 1.6l V6, assisted with kinetic and heat ERS
No of valves: 24 (4 per cylinder)
Power: More than 900 bhp (with in excess of 45% thermal efficiency)
Fuel injection: High-pressure direct injection (max 500 bar, one injector/cylinder)
Pressure charging: Single-stage compressor and exhaust turbine on a common shaft
Bore: 80mm
Stroke: 53mm
Crank height: 90mm (minimum allowed)
Energy recovery system: Integrated Hybrid energy recovery via electrical Motor Generator Units
Energy Store: Lithium-Ion battery solution, between 20 and 25 kg
Fuel: PETRONAS Primax
Lubricants: PETRONAS Syntium
Gearbox & hydraulic oil: PETRONAS Tutela
---
---