McLaren opts against racing new rear wing endplates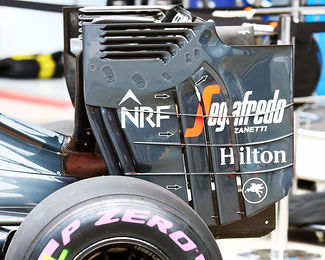 McLaren have turned up at Austria with a dramatically different rear wing end plate than the previous versions, including three new long vertical slits. These are positioned downstream of the two slits that were already present along the leading edge of the end plates.
All vanes are aimed at directing airflow inboard, hence allowing air to stream into the low pressure area that is induced underneath and behind the rear wing's downforce generating elements. The resulting reduced pressure difference between the inside and outside of the endplate will help reduce the strength of the trailing edge vortex. All in all, this essentially counters the original purpose of rear wing endplates, but as our analysis has shown, a large part, if not all of the recent development in this area were focused on reducing drag without sacrificing too much downforce.
McLaren's sporting director, Eric Boullier said after Friday the team were still looking into the effects of the new component.
"The morning's session was spent undertaking a number of aero tests as we work to introduce new components. Both drivers were satisfied with the car's balance, despite the lack of running, but we still need to make some improvements if we're to challenge for Q3 tomorrow and points in Sunday's race."
However, with the rain intervening with normal running, the team have now opted not to use it in the race, instead aiming to try it again later on.