Red Bull joins louvre sidepod panel trend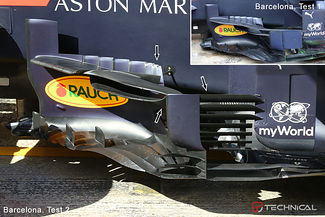 The second week of pre-season testing at Barcelona saw Red Bull Racing bring a fairly considerable aerodynamic update to its RB16, featuring detail changes on the front wing and the diffuser. The most obvious change was however the change in the barge boards where the team have now joined Mercedes and Ferrari in having louvres as sidepod panels, instead of only vertical deflectors.
The new design, at least in this area, is very similar to that from Mercedes with a number of flaps pushing air outbound and upward, generating a wee bit of downforce. These louvres sit in between vertical deflectors that are mainly aimed at directing air backwards.
Apart from this, detail modifications were also made to the vertical deflectors close to the chassis, while the panel next to the sidepod's air inlet has gained a slit.
It's no surprise that this comes together with front wing changes, as that front wing generates the Y250 vortices, as well as influence airflow around the front wheels and into the wake behind them.