Again no S-duct for McLaren?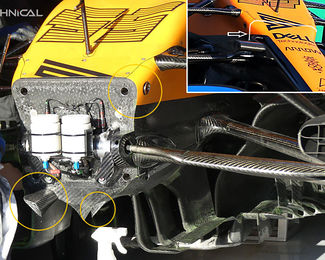 Even though most teams still use the S-ducts, even when featuring narrow nose likes like on the Renault RS20 or Mercedes W11, it seems like McLaren will once again opt against an S-duct. Last year, with the introduction of the MCL33 car, the team switched to a narrow nose, and at the same time ditched the S-duct. It might be less advantageous to have an S-duct with a narrow nose, but the most likely reason why McLaren opted against is to be able to package things closer, while still maintaining rigidity.
It's clear that everything sits very tight together, and that even if McLaren would introduce an S-duct, it would either mean a redesign of the monocoque - which is very unlikely - or an exit that sits well ahead of the front bulkhead. It would therefore be fully integrated into the nose cone.
Currently, McLaren's chassis does not provide any space or apertures for ducting air, with the vanity panel that covers the suspension elements sitting flat on the upper surface of the chassis.
Also note the extensions on the lower surface of the chassis; elements that will certainly help to easily fit a new nose cone if that would be necessary. To make things even simpler, McLaren have reversed the pin connections from nose cone to chassis, meaning that the pin is attached to the nose cone, and that the ratchet to fix the nose cone needs to fit into the chassis, rather than the nose - which may be easier for the mechanic, as another one might still be fiddling to get the nose box at its right position.