Alfa Romeo 158
The moment the flag fell to mark the beginning of first ever F1 World Championship race on May 13th 1950 at Silverstone there was little doubt what car would cross the finish line first. Four Alfa Romeo 158s lined up ahead of all others thus continuing their 3 year long domination. One Alfetta (which means 'Little Alfa' in Italian because of its compact dimensions) retired during the race but the others finished 1-2-3 and left their nearest opponent 2 laps behind.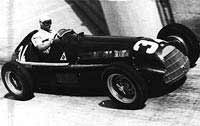 What is most incredible is that this car was already a 13-year-old design. When the new German Nazi government decided to go motor racing it did so with remarkable funds, technology and people. Other nations' manufacturers couldn't keep up with these newly set standards. Italy, keen to stay at the forefront of at least one aspect of motor racing turned its back to Grand prix cars and decided to build cars for the Voiturette class. 'Voiturette' or, in Italian, 'Veturetta' was considered a 'step-down' class similar to Formula 2 or Formula 3000 of today. Gioacchino Colombo designed a new Alfa Romeo 158 ('15' for 1,500cc and '8' for 8 cylinders) on behalf of Alfa Romeo and its chief Orazio Satta.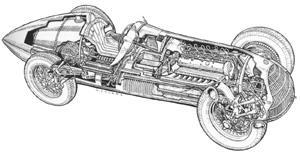 Its straight-eight supercharged engine produced nearly 200bhp at 7,000rpm. It had a single-stage Roots supercharger with 17.6psi boost and twin overhead camshafts. The engine block was cast in Elektron (magnesium) and what was unusual for that time, it consisted of two separate castings integrated with a common head. The sump and crankcase were cast with identical material. The crankshaft was chrome nickel steel and the whole engine weighed only 363lb (165kg).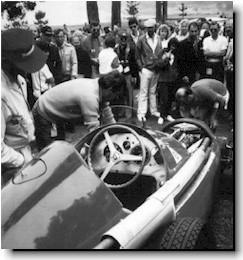 The car finished 1-2 in its first race at Livorno piloted by Villoresi and Biondetti. It was August 7, 1938. But things would soon take a turn for the worse. The Italians expected win the 1939 Tripoli Grand Prix which was a major race on the International calendar. The rules were changed and the Tripoli GP was run to the Voiturette class rules to keep the Germans away and secure an Alfa Romeo victory. What organizers didn't know was that Mercedes-Benz had secretly developed a Voiturette car, the W165. The Germans brought 2 cars to Libya and promptly finished 1-2. Although the Alfas showed well they proved unreliable when attempting to follow the Mercedes' pace.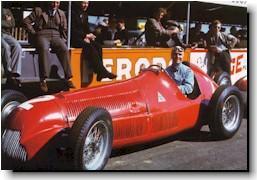 WWII followed soon after and racing stopped for 6 long years. Legend has it that three Alfettas spent the war hidden in a cheese factory in northern Italy and were subsequently brought out in 1946. The first post-war race in which the Alfettas participated was held in Paris to 'Formula Libre' regulations. The race cars were prepared in hurry and both broke down, obviously due to hasty preparation. The cars soon regained full form and Farina, Trossi and Varzi all won races before the end of the year. Modified in 1946 the cars produced 254 bhp.
In 1947 a new set of regulations were established and the premier class was called 'Formula 1'. The Alfettas complied with the the rules and thus became Grand Prix cars. Modifications were carried out on the cars which were then designated as Type 158/47, these modifications included increasing the power to 300+bhp. However the work was postponed until 1948 after Portello's bosses learned that the current car was strong enough to humble all of the opposition. Tragedy struck on its debut at the 1948 Swiss GP when Varzi, trying too hard, lost the car on slippery surface and was killed. New cars were raced at the re-opening of the Monza circuit and Wimille, Trossi and Sanesi finished 1-2-3.
Before the end of the year Wimille, one of greatest drivers of that era, was killed in a South American practice accident while Count Trossi died in hospital of cancer. Alfa had in a short period of time lost all three of its star drivers. This partly led to Alfa's abstinence from racing in 1949.
In 1950 the missing stars were replaced by the famous '3 Fs': Farina, Fagioli and Fangio. The cars were improved and now developed 350bhp at 8,600 rpm. The Alfas went won at Silverstone and continued their success to win all 6 rounds of the 1950 World Championship (excluding Indianapolis). Alfa also won all five non-championship races they contested. Farina was crowned World Champion followed closely by Fangio and Fagioli.
Towards the end of 1950, the Alfa 159 appeared. It was a heavily redesigned and modified 158 with a de Dion rear axle instead of the swing axle employed previously. It had increased fuel tanks made necessary by an engine producing close to 420bhp at 9,600rpm!
1951 saw the Alfa Romeo's first major defeat since 1939 when Froilan Gonzalez drove a Ferrari 375 to victory in British GP at Silverstone. The 27-race-long winning streak had ended. Ferrari's won 2 more races that year but Alfa Romeo's Fangio managed to claim the World Championship at last race of the season. There Alfa brought the 159M (Maggiorata = increased) cars with reinforced frame tubes and cantilevers above both frame rails.
By then, Alfa's fuel consumption, thanks to ever-increasing supercharger pressure and rpms, had fallen to 1.7mpg (170liters/100km)! The cars needed 2 or 3 refuelling stops to complete a race distance while the 4.5-liter normally aspirated competition could run virtually non-stop. The engines were thermally stressed to such a degree that a so called 'fifth stroke' was needed. This required that some amount of unburned fuel was needed to be run through the cylinders just to cool them down a bit.
The cars had reached the limit of their development and with not enough funds to build a completely new car Alfa Romeo was forced to withdraw from racing and thus the incredible story of these cars came to an end.
Specifications
Car: Alfa Romeo 158
Constructor: Alfa Romeo Italy
Year: 1950
Class: Formula 1
Engine: Supercharged 8-Cylinder in-line
Bore X Stroke: 58 x 70 mm
Capacity: 1,479 cc
Power: 350 Bhp at 8.500 rpm
---
---