Tyrrell P34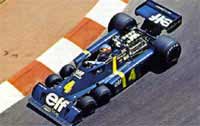 Active: 1976 - 1977
Team: Tyrrell
Specifications
Car:
Tyrrell-Ford P34
Constructor:
Tyrrell England
Engine:
V8 Ford-Cosworth DFV
Bore X Stroke:
85,7 x 64,8 mm
Capacity:
2,993 cc
Power:
475 bhp at 10.000 rpm
This famous car was the handiwork of Tyrrell's chief designer Derek Gardner. It's most striking feature of course was the use of four 10 in. wheels instead of the regular two. The front-end layout was intended to "... minimize induced drag by reducing lift at the front and to turn that gain into the ability to enter and leave corners faster". The use of four small disc brakes required a special triple master-cylinder system, each feeding the brakes on one of the three axles. This was necessary as adjustments were required to control locking at the four front wheels. If the two front wheels locked first, then the effective wheelbase of the car was shortened and if the second set of front wheels locked first this resulted in the effective wheelbase being lengthened. The size of the front tires put special stress on the cross-ply tires Goodyear supplied. Had radial-ply Michelin tires been available to the team the story might have been different. Unfortunatly Goodyear's tire development program did not have the capacity to properly support the special 10 in. tires used by the P34.
The high point for what was known as Project 34 came at the Swedish Grand Prix in 1976 where Jody Scheckter came in first followed by his teammate Depailler in second. After two seasons and the departure of Derek Gardner the experiment was abandoned.
---
---